Your Google Home device is full of fun, scary tricks and treats for Halloween! Google can play spooky music, tell a scary story, and more! Get extra spooky with these hidden Google Home commands.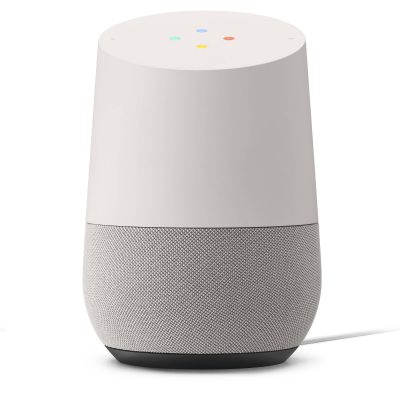 Scary Sound Effects for Trick or Treat
Terrify and delight your neighborhood trick-or-treaters by saying "Hey Google, get spooky." The command will start an hour-long playlist of music and scary sounds. The small device is perfect for hiding in your decor. YouTube also has hours of spooky sound effect playlists if you don't want to have to remind Google every hour to start the playlist again. Search YouTube for "spooky sounds" or "Halloween sound effects" and stream the audio to your Google Home device via Bluetooth or Chromecast if you are using the YouTube app or Chrome browser.
Start a Halloween Dance Party
If you're staying indoors this Halloween and are looking for a playlist to get the party started, simply say, "Hey Google, play Halloween music." If you don't have a default music streaming service set up, Google will start a YouTube playlist. If you want, you can link Spotify or Pandora to your account. For more control over your Halloween dance party tunes, tell Google to play a specific playlist or artist. Tell Google to "play my Halloween party playlist on Spotify."
Tell A Scary Story
If you aren't using Google Home in your bedtime routine, you're missing out! Instead of asking for a bedtime story, say "Hey Google, tell me a spooky story." Google will choose a kid-friendly scary story from Google Play Books or Stornynory to read to you.
Google will also tell you a specific story if you find one you like. These stories are about 3-10 minutes long, so no need to worry about staying up past bedtime.
Costume Personality Quiz
Not sure what to be for Halloween? Google can help! Say "Hey Google, what should I be for Halloween?" and Google will ask you a series of questions to give you a personalized costume recommendation and instructions on how to put your costume together.
Spooky Facts and Questions
Google also has a some education in store this Halloween with questions like "Okay Google, tell me facts about monsters." Google will then tell you the origins of classic monsters and mythical creatures.
Finally, Google also has some fun, spooky questions to ask this Halloween like…
"Hey, Google, who you gonna call?"
"OK, Google, happy Halloween!"
"Hey, Google, what's your favorite candy?"
"OK, Google, what is the most popular scary movie?"
"Hey, Google, who would win between a werewolf and a vampire?"
"OK, Google, Freddy versus Jason. Who wins?"
"Hey, Google, why do the leaves change colors?"
"OK, Google, what are you going to be for Halloween?"
"Hey Google, where is the nearest pumpkin patch?"
"OK,Google, how many days until Halloween?"
"Hey, Google, what does a werewolf sound like?"
"OK, Google, boo!"
Source: CNET